Todays article is written by Mike the gardener from the Seed of the Month Club.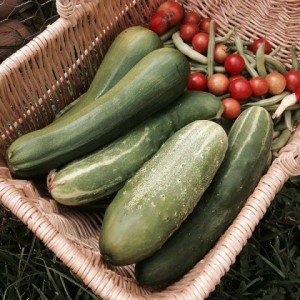 Blossom end rot is one of the easier vegetable plant diseases to spot and the most asked about as well.  A few times each week someone will post a picture on our vegetable gardening Facebook page asking "Why are my tomatoes doing this?"
When your tomatoes have blossom end rot, they look great at the top, but on the bottom of the fruit, is a dark, mushy spot, that makes the tomato look inedible.  Blossom end rot typically looks like the picture below.  Along with tomatoes, blossom end rot also affects peppers, squash, cucumbers, and melons.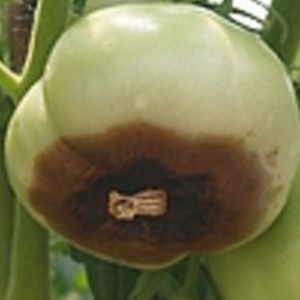 THE CAUSE OF BLOSSOM END ROT
In short, blossom end rot occurs when your plant is not getting enough calcium.  However, it could be because your plants are not getting enough water either.   While your soil may have ample amounts of calcium in it for your plants, there still needs to be sufficient water in order for the plant to carry the calcium to where it needs to go.
Before you start heavy watering your plants though, it would be best to check the type of soil that you have and take a reading of your soil to see if it has the nutrients, in this case calcium and pH level that your plants need to avoid this disease.
Typically, soils that are acidic, sandy, or coarse often contain less calcium.  Also, overusing fertilizers can cause calcium deficiency as well.   Overusing fertilizers can increase your phosphorous levels which creates an environment where the calcium that is present is unusable by your plants.
FIXING BLOSSOM END ROT
Now that you know what blossom end rot looks like, what it is and what can cause it, the next logical step would be to understand how to fix this issue.  Your first step with blossom end rot, and just about any plant disease, is to mix in plenty of organic material, i.e., compost.  By mixing in plenty of compost, you are keeping your soil healthy and that creates a well suited environment for your plants.
The next step would be to check your soil's pH level.  If your soil is too acidic you can add some lime to it to bring the pH level up.  The pH level of your soil will depend upon what you are growing, but you are shooting for 6.0 to 6.5 which is an ideal range for most plants in the home vegetable garden that are susceptible to blossom end rot.
Unfortunately, once your fruit has blossom end rot, that particular fruit cannot be reversed back to a healthy fruit.  Therefore you have to take steps to ensure that future fruit on that plant do not meet the same fate.  An immediate solution, so as to not lose your harvest for the season, is to use a liquid fertilizer that is enhanced with calcium.  There are plenty of organic options on the market.    Also, be sure to water daily so that your plants can actually move that calcium throughout the plant.
Again, blossom end rot cannot be reversed on particular fruits.  Once the fruit has it, it has it.  That does not make the fruit inedible though.  Just cut off the end that is dark and mushy.  To me, the fruit tastes the same.
About the Author
Mike Podlesny is the author of the bookVegetable Gardening for the Average Person as well as the creator of theSeeds of the Month Club where members receive non gmo, heirloom variety seeds every month. You can listen to Mike each week on theVegetable Gardening Podcast where he interviews gardening industry experts.