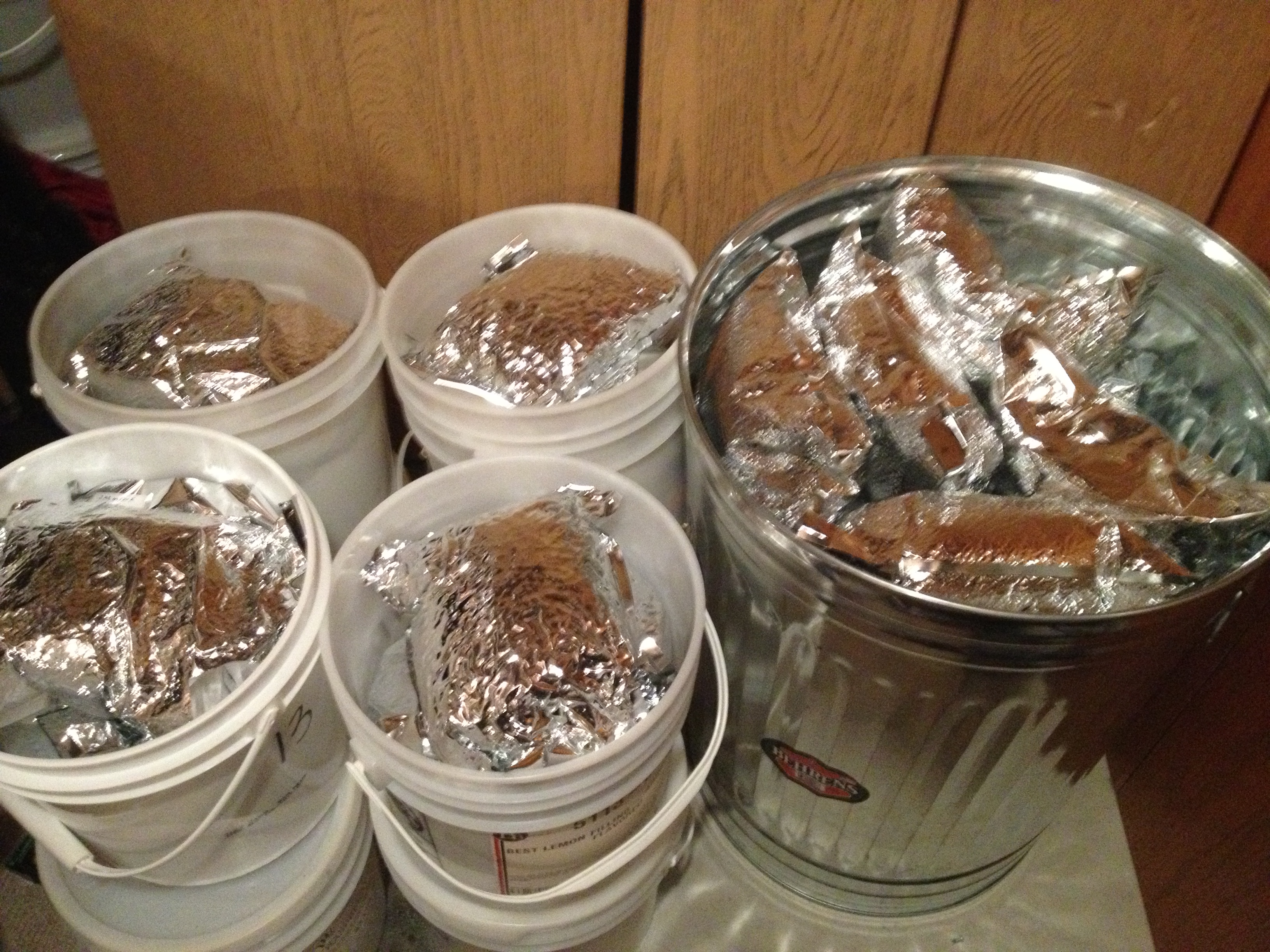 Years ago, while building our food storage, we bought a bunch of 3-gallon, food-grade buckets from a bakery. We used 1 gallon Mylar bags for all of our LTS (Long Term Storage) and found that we could fit 3-4 1-gallon bags in each bucket. When we decided we wanted to add to our food storage, we discovered that the bakery we had previously purchased buckets from had gone out of business. I had previously tried stopping at other bakeries to get buckets and had only gotten a few over the course of a week.
I decided to try and find another solution. I came up with 31 gallon garbage cans. Below I have some factors that I considered and my thoughts on each.


Food Security
When I started prepping and researching food storage, a lot of the information I found made it seem like you had to put the food in Mylar bags and the Mylar bags in food grade buckets. The truth is that you only need food grade buckets if you're storing your food directly in the bucket, without the Mylar bag. Unless you're using the food stored directly in the bucket frequently, I recommend putting it in 1 gallon Mylar bags. This way you will only have a small amount of food to use at one time and the food in the other bags isn't exposed to oxygen and the moisture in the air.
If you're using Mylar, it is food grade, so you can put the Mylar filled bags in any container that is dry and won't puncture the bag.
I have read many stories of mice and other rodents chewing through plastic buckets to get to the contents. This just isn't going to be a problem with a metal can.


Cost
Home Depot has a 31 gallon steel trash can listed for $24.97. I bought mine at a local Menard's for a similar price.
I have looked at a few different places who sell food grade buckets online and they are not all of the same quality. I have purchased from Bay Tec in the past, so I am going to use their prices, as I trust the quality and the price is somewhere in the middle. They have a six pack of 5 gallon buckets for $27.54 and a 3 pack of buckets for $14.07. lids for them are $1.99 each for a total of $50.55. You might be able to find cheaper buckets, especially if you can find a local source. I had a great one for a while; the bakery I mentioned above. They kept all used buckets and sold them. Other places I found are willing to give them away but getting to them before they throw them out was a trick!


Storage Space
All of the buckets that I have are 3-gallon. If you have 5-gallon buckets, you'll be able to fit more food in the same footprint. As you can see in the image, eight 3-gallon, plastic buckets take up a bit more room than the garbage can. If you have 5-gallon buckets, they'll obviously stack higher than the garbage can.
I can usually fit 4 full 1-gallon Mylar bags in a 3-gallon bucket. In the picture, I have 32 full Mylar bags in the buckets. I have 22 full Mylar bags in this garbage can. I think I could probably fit 25 in if I tried.
One idea I have is to cut a thick piece of plywood, wide enough to cover the entire opening of the garbage can. This would allow stacking items on top of the can, allowing more storage space. You could place cans side by side and do this with as many cans as you like or have room for.
For those of you with pets, we are able to fit two 38-pound bags of dog food in one can!


Final Thoughts
We use a mix of both buckets and cans. The cans work nicely and are cheaper than buckets in many cases. The only real downside to buckets is the weight. If we decided to bug out and wanted to bring the contents, we would have to partially empty the can and then carry it out to the truck and trailer.

Please click here to vote for Prepared Christian as a top Prepper site!
If you liked this article please think about sharing it on the social media listed below, thanks!