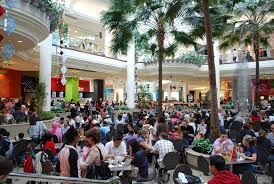 I did something recently that I have not done in many years! I went to the mall; not just any mall, mind you, but the Mall of America, the nation's biggest mall! I went for a work event, and since I hadn't been there in almost a decade, I thought I would walk around and see what I could see.
I came up with several observations and suggestions that could help one stay alert and safe in a crowded situation. This could be a mall, a state fair, or, in an emergency, it could be an evacuation route or center.


Awareness
Practicing situational awareness in any public setting can be difficult at times. It can be nearly impossible when you add hundreds or thousands of people. I'm a big believer in the Cooper Color Code. For those unaware, this is a system of mental readiness that uses four colors to differentiate the levels.
Read the link above for a deeper explanation. Below is a brief overview.
White: This is a state of being unaware; the state you're in when at home.
Yellow: Relaxed but aware of your surroundings; the state you should be in any time you're away from home. This is where you scan for potential threats.
Orange: Alerted on a single threat; must make decision on when and how you will react if the threat escalates.
Red: You are ready to fight.
Using the Cooper color code is an effective way to gauge potential threats in low to moderately busy situations. However, if you are in a situation where you have, not only to scan for threats, but also need/want to take in the sites or look for someone you're meeting, it is quite difficult to assess every passerby for more than a second or two.
In large groups of people, I change my scanning method somewhat. For example, a young teenage girl who is giggling with a friend is usually not going to be a threat. This being the case, I then dismissed groups of teenage girls as potential threats. The same could be said for a group of elderly gentleman, or any group of similar people. Now, of course, they would get a second look if they did something that got my attention, such as following me.
Because I was in a setting where people were there with purpose, I expected them to act in certain ways; looking at merchandise, walking to or from a store, looking for the next store to shop at, you get the idea. Anyone who did anything outside of these expected behaviors got more of my attention.
For example, there was a group of people sitting on benches. Some of them were talking, others were people watching and one of them was watching me. Because I thought it odd that a man in his late thirties or early forties was watching me, I made a point to look behind me as I passed. I then noticed that he got up and followed me. This could have been a total coincidence, but knowing my biggest threat in the mall is pickpockets, I decided to act instead of waiting to see what happened. I moved off to the side of the walkway and stopped, watching him as he passed. When he got a bit ahead of me, I went on my way again, making sure I knew where he was.
Maintaining awareness also makes you much more polite than the average person. At 6'0 tall and 220 pounds, I'm a fairly big guy. I lost count of how many people I had to dodge to keep from knocking them over or, in one case, getting run over by a motorized scooter. Playing this kind of leapfrog and trying to keep people at as much distance as I could also made me a harder target to pickpocket.


Sliding Into Condition White
I don't care who you are, it is impossible to maintain perfect situational awareness at all times, especially when you're in an environment where you need to split your attention between looking for someone in particular, finding a gift, maintaining a conversation, eating a meal and so on.
One sure fire way to slide back into condition white is using your phone. Below are some tips I used both on the occasions when had to use the phone, or when I was looking at an item.
I only used the phone in a non-busy area, and made sure my back was to the wall. I made sure to continue to scan every five to ten seconds. I also kept the phone close to my body and kept a solid grasp on it. I've watched footage of people getting their phones stolen right from their hands. They almost always have it as far from them as possible, yet not quite a full arm's length away. I had my wrists touching my frame and checked my peripherals frequently.


Limiting Mr. Murphy
Because I dislike Mr. Murphy and his law and want to limit the amount of things that do go wrong, special precautions should be taken in large groups of people. Below are some random security related ideas when in a large group of people.
 Don't put your wallet in your back pocket. The front is much harder to pickpocket from.
Women, if you carry a purse, carrying it cross body won't keep it from being stolen but can limit pickpocketing.
At the mall there were some parents using those kid "leashes". I used to think those were a bad idea until I watched a young couple with two kids. The wife was pushing the stroller, the husband was carrying bags and had the kid that could walk tethered to him with one of these. He frequently checked on him but the tether gave them a little more freedom than they would have had otherwise.
 Men – When using public restrooms, either do like the ladies and use the buddy system, or if going solo, use the stall. There was a crime wave here a few years back where a man was targeting men who were alone standing at the urinal. He would walk behind them and give them an elbow strike to the back of the head, then while they lay there unconscious he would empty their pockets.
Women – When using a public restroom, the safest stall is the one with a solid wall to one side. You can place your purse on the floor in the corner. There is then no risk of someone taking it off the door hook or reaching under and grabbing it.
Always know the quickest way out of the area as well as an alternative route.
Pay attention to anyone paying more attention to you than they are anything else. A nod and a smile can let them know you are aware of them. They might just think that you remind them of someone or they may have sinister intentions.
If there is an emergency and everyone is heading for the exits; depending on the emergency, it might be best to let the crowd pass by and then leave. If you did as suggested above, you know where an alternate route is.
One would think that evil couldn't hide in large groups of people. However, some very evil things were done at the Superdome during hurricane Katrina. The point here is that even in large crowds of people, those who want to do you harm can find pockets where foot traffic is light. This is one of the reasons to use the buddy system.
Make your valuables hard to get to. I usually wear cargo pants and button the pockets. If you carry a bag or purse, make sure it is zipped. If you have one that doesn't close, while it might be handy, it is not secure from someone willing and with nimble fingers.
Staying alert and secure in crowds of people has different challenges and might need a different approach than around a low population setting. Please add any other thoughts or security ideas to the comments section.

Please click here to vote for Prepared Christian as a top Prepper site!
If you liked this article please think about sharing it on the social media listed below, thanks!