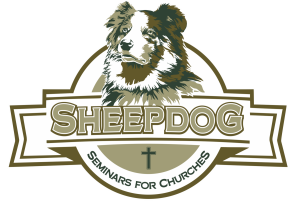 As I mentioned in the article Should a Christian Carry a Firearm I recently attended the Sheep Dog Seminar for Churches and thought it important enough that I wanted to share my thoughts on it with all of you. I am not affiliated with them in any way, so when I say, "if you have the opportunity to go to one of their seminars, I believe you should go", it comes from me knowing that it will open your eyes, and bless you; and not because I get a kickback! Oh, they are offering a 2 for 1 for the rest of the year, though!
I'm not someone who gushes over celebrities or public figures, but I am very glad I got the opportunity to shake the hands of three modern day Nehemiah's; Lt. Col. Dave Grossman, Carl Chin and Jimmy Meeks. These men spend much of their time attempting to wake the Body of Christ to the violence that is exploding at our places of worship; over 1000% since 2006! I join them in their belief that it will continue and will get worse! They are teaching us to keep our eyes open, to work with one hand and keep our sword (firearm) at the ready.


Lt. Col. Dave Grossman
I have read his books On Combat, The Psychology and Physiology of Deadly Conflict in War and in Peace
and On Killing: The Psychological Cost of Learning to Kill in War and Society
and I believe that if you are someone who carries a firearm for self-defense and believes there is a chance you may have to use it, these books are required reading. They will help you prepare your mind for combat. That's what the brief extremely violent encounter with Joe Dirtbag will be if you need to draw your firearm and use it for self-defense; COMBAT!
You can send thousands of rounds down range, but if you do not prepare your mind, and know what to expect from your body under extreme duress, you very well could be training against how your body will actually act under duress.
Lt. Col. Grossman also has a seminar called The Bullet Proof Mind. He covers some of the content from that seminar in the "Sheep Dog for Churches Seminars". I purchased the DVD at the seminar and can't wait to watch it! In the seminar he covered some of the physiological changes (which I wrote about in this article) that take place under extreme stress.
There was so much information covered, I can't possibly mention everything, so I will just mention two things now.
Col. Grossman said that if our enemies obtain the ability to use an EMP, they absolutely will. More likely, an attack will be Beslan style, which I covered in Terrorism: Beslan Style Attack At Our Schools Please read the article for more information, here is the first paragraph:
"On September 1, 2004, Chechen Islamic terrorists stormed a school taking over 1,100 people hostage for three days. The terrorists were brutal, killing men and boys old enough to resist their attempts. Hostages were forced to stay in a sweltering hot auditorium with little to no food or water. Russian forces eventually stormed the school. In the end there were over 385 dead, including 31 dead terrorists. Wikipedia has a very detailed write up called Beslan school hostage crisis."
In the article I point out that muslim clerics have said "We have the right to kill four million Americans — 2 million of them children — and to exile twice as many and wound and cripple hundreds of thousands." Information has been recovered that indicated Beslan was training for American schools.
The second thing I want to mention that the Col. covered is when he thinks the next attack will come. I can't remember the conflicts he listed, but he mentioned times when we have fought them, and withdrawn from conflict. It is when we withdraw that they strike us at home. He believes that we are keeping them busy in Afghanistan and once we pull out from there, they will be emboldened and attack us here.
My thought on this is that all it would take is a handful of monsters willing to slaughter innocent children to walk into a daycare center or elementary schools over a few days and massacre as many children as they can, to bring our way of life to a screeching halt.
If parents don't feel safe sending their kids to school, they have to stay home from work to stay with them. How many people do you work with who have kids that might stay home?
This doesn't even take into account the emotional damage that would be caused by such an event. The impact would be far greater than that of 9-11, as we mourned for all the children killed.


Carl Chinn
I first discovered Carl's site when I was researching my first article on the Rise of Crime at Churches. Carl records every fatality that happens at a church, or faith based center. He was involved in a hostage situation some years ago at Focus on the Family, and was one of the church security members that responded to the shooter at New Life Church in Colorado. While he was not the one who shot the murderer, he was within seconds of engaging him before another security team member did from another direction.
Carl has a book called Evil Invades the Sanctuary, which I read shortly after its release. You can purchase the book from his site. In it, he goes into the details of both incidents and gives some good information for church security teams. He delves into this in the seminar as well and gives some very good tips on church security.
If you are a part of a church security team or someone concerned with it, I recommend this book.


Jimmy Meeks
Jimmy might not be the most popular guy with some people and churches because while he does say church violence is a big problem, he also says that the biggest issue we face isn't violence in the church, but sexual sin. There are 23 sexual crimes reported at Protestant Churches every day. We have just as many people calling themselves Christians addicted to porn as we do non-believers.
Jimmy does talk a fair bit about church violence as well. Some of the stories he gives are heart-breaking. He points out that:
There have been over 549 violent deaths at churches since 1999! In the 36 months of 2012 (75), 2013 (45), 2014 (74), there were more deaths at churches than at schools! Remember that this was the time period for one of the bloodiest, most horrific school massacres at Sandy Hook Elementary.
(Chris Says: "Since 2006 the rate of deaths at churches or at church functions or buildings has skyrocketed over 1000%! That is NOT a typo!")
Jimmy saw that I mentioned him in Should a Christian Carry a Firearm and asked me to call him. We spoke for a few minutes, and on the chance that you see this Jimmy, thanks again! I really enjoyed the seminar! Keep up the much needed, and great work!

Please click here to vote for Prepared Christian as a top Prepper site!
If you liked this article please think about sharing it on the social media listed below, thanks!