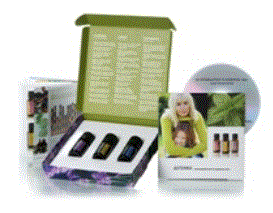 Essential Oils are something I didn't have a lot of experience with until this year. I was contacted earlier in the year by Julie "The Oily Old Lady", who is a doTerra Wellness Advocate. She offered to send me the doTerra Introductory Kit. Here is the write up on it from doTerra.
"As an additional tool for sharing dōTERRA® with customers and new consultants, the Introduction to Essential Oils Kit includes the introductory audio CD and booklet and a 5 ml bottle of dōTERRA's Certified Pure Therapeutic Grade Lavender, Lemon, and Peppermint essential oils. The stunning presentation box also includes suggested uses of the included oils providing your prospects with an immediate experience of the life-changing benefits of essential oils."
Since, as I said, I didn't have any experience with essential oils, the CD and booklet were very helpful. Julie also sent me a product guide which you can get an online version of here. This lists all of their products, with some information about them, and general information about essential oils as well. I also did more research on three of the oils online. Here are the oils in the kit, some of the things we used them for, plus some other uses I found!


Lemon Essential Oil
Soften skin callouses
Ear Infection Relief
Relieve lymph nodes
Freshen air naturally
Get rid of sticky residue
Aroma therapy for improving concentration
Antibacterial agent
Makes Chris want lemon flavored desserts (note from Trudee: that happens if he's awake! The guy loves lemon desserts!)


Lavender Essential Oil
Trudee really enjoyed it in a bath; very relaxing.
Effective sleep aid
Insect repellent
Ease pain from bug bites or bee stings
Skin ailments such as scars, burns, oily skin
Ease an upset stomach


Peppermint
Great at fighting nausea; in fact peppermint can alleviate abdominal cramping and even diarrhea.
Joint pain; the effect was short lived, but that probably has more to do with us then the peppermint.
Great when added to water or tea.
Can help with mental alertness.
Breath in with a meal to feel full faster.
Makes Chris want peppermint candies (are you seeing a pattern here?)

I'm just scratching the surface on the many, MANY uses for these three oils. doTerra actually created a list of 101 Uses for the Intro Kit. If you're just starting out with essential oils, you might also be interested in another document they wrote that covers the following: What is an essential oil? Essential Oils throughout History; Uses of Essential Oils; Extraction Methods and Essential Oil Quality Grades.
There is so much to learn with essential oils that I feel like I am just brushing the snow off of the tip of the iceberg with the information I've given you on these three. If you are just starting out, the introductory kit is a great way to go! If you decide to really delve in, doTERRA had buyers programs you can join. If you have questions about that, or any doTERRA products, I recommend you contact Julie. She is passionate about essential oils, very informative and a fellow Prepared Christian! Here is her contact information:
Julie Anderson, The Oily Old Lady
doTERRA Wellness Advocate #217221
www.mydoterra.com/andersonoils4u
andersonoils4u@yahoo.com
815-871-4469

Please click here to vote for Prepared Christian as a top Prepper site!
If you liked this article please think about sharing it on the social media listed below, thanks!