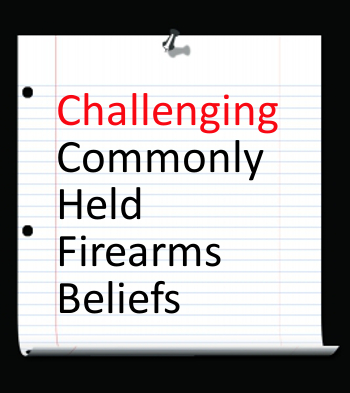 I was looking over some of my older posts and noticed I haven't written an article on using a firearm to CCW or for self-defense in quite some time. So I want to take the opportunity to give you information that I believe is important, and doesn't necessarily fit into its own article.
I'll start off by saying that when it comes to the use of firearms for self-defense, there are some people who are so married to their belief, that they're almost offended when presented with opposing information. If you have a belief that I say something against, please let me know why you think I am wrong. Some of what I will say today is my opinion, but much of it is backed up by science.


The History of Firearms Training
Until recently, most of the information trainers passed on about the use of handguns for self-defense was gleaned second hand, or information they read from a book, which at the time was cutting edge. In the last fifteen years though there has been a wealth of data coming in from the video cameras that are everywhere. From police dash cams, CCTV, cell phone cameras and even from the wars overseas. There have also been several studies done by neuroscientists that have made it so we have a better understanding of how the brain works in training and in critical incidents.
Many people have learned from a friend who was a cop or in the military back in the day. I'll go back to saying that their training was probably top notch when they got it, but it very well could be outdated.


You'll Default to Your Highest Level of Training
Uh no you won't. Let's say you take an expensive 2-day handgun course and learn all kinds of great information. If you never practice those things, you will not do them when in a critical incident. You may have heard the term "muscle memory", which is a little misleading. Your muscles don't have a memory, your brain just learns to do things by repetition.
For example, do you need to look at your hands or the shoestrings when you tie your shoes? If you're just learning how you might, but if you have done it for years it is now second nature. Now let's say you buy a new pair of shoes and the salesperson shows you a new knot that performs better than the standard knot, and you only practiced it at the store. Now if we added some form of critical stress, such as a burning house, a home invasion or zombie attack and you had to put on your shoes and tie them, your brain is trained to tie them the standard way, so that is how it will respond under critical incident, your body defaults to what the brain has done most often. You can retrain it over time, but that requires repetition to build that "muscle memory".


Training For the Worst of the Worst
Needing to defend yourself with a firearm is a worse case self-defense scenario. Criminals don't let you know they're going to attack or how they'll attack. Because of this, you can't know how things will unfold, so practicing for the worst of a worst case scenario is a good idea. If you only ever train to shoot one round at one attacker, what will you do when faced with multiple attackers and your first shot misses? With this in mind, here are my thoughts on a few related topics.


Revolvers for Self-Defense
I can't even tell you how many times I have heard people recommend revolvers for self-defense, usually recommended because they don't fail as semi-autos do. While this is true, it doesn't take into consideration the entire picture. Police switched from revolvers to semi-autos many years ago for several reasons. Magazine capacity and ease of reloading are just two.
Since we're talking about the worst of the worst, you don't know how many attackers or how many rounds you'll need to fire. A revolver holds six rounds, and it is very easy to fire six rounds in under 2 seconds. You might think that is overkill, but we're talking about worst case, and there have been several police shootings where the officer emptied their magazine before the attacker went down. I'll wager that this is often due to missed shots caused by physiological changes in the body.
If you only have those six rounds and are in need of more, while you can reload with a speed loader, unless you have practiced using it heavily, you might not to be able to do it quickly or at all under stress, due to the physiological changes in the body. Under critical stress, blood is taken from the extremities and pooled into the body's core. This means fine motor function is highly reduced in the hands, limiting dexterity.
Yes, semi-autos fail, but one can quickly learn how to clear the three types of failures in seconds, and get back in the fight. These are much easier to manipulate with loss of fine motor skills and can be learned quickly. The vast majority of the three types of failures can be cleared with "tap and rack"; hitting the bottom of the magazine and racking a new round into the chamber, which can be done in 1-2 seconds.
If you use a revolver for strength issue, by all means use it. But get proficient at changing speed loaders just in case.


Double Tap
Double Tapping has been a standard in self-defense for decades. Often, practice is to draw from the holster, fire two rounds into center mass and holster. Since we're talking about the worst of the worst case scenarios and we know that people fall back to their most frequent level of practice, what do you think will happen when rounds miss or don't bring the attacker down? There have been reported cases where an officer fired his two shots and holstered his firearm, only to have the attacker continue the attack.
Studies have also been done on the accuracy under critical incidents, which show that as many as 70% of rounds fired are misses. Now, I graduated before common core math, but I am still pretty sure 70% of 2 means either one or both rounds missed.
Instead, I recommend that you practice firing varied rounds each time when training, sometimes firing twice and other times three, five or six rounds. If you are ever involved in a critical incident and must shoot, continue to fire until forward movement of the attacker has stopped.


Does Size Matter?
This is one of the oldest arguments in the realm of firearms for self-defense; does the caliber of the round matter (I can feel the heated comments already lol)? I think that before modern self-defense ammunition, designed to expand upon contact, the size of the round may have been important. However, with the advances of modern ammo, I am of the belief that 9mm is a better choice than .45 for a few reasons.
One shot stop (or two shot) is often recited, but the stopping power of one round does not take into account the physiological changes involved in a critical incident and is irrelevant if it is missed or does not hit a vital organ.
Modern day self defense ammo expands upon contact dumping its kinetic energy into the flesh. As it expands it leave a much bigger hole then the ammo of the past.
The recoil with 9mm is significantly less than .45, making recoil management much easier so you can get back on target faster to fire again and again. It is also less expensive, and if your training budget is an area of concern, you will be able to practice more.
I don't recommend anything smaller than a .32 or .380 for self-defense, but the bottom line is: carry what you have and are proficient with. If you like a .45, practice and carry one. I personally carry and practice with a 9mm.


Distance of Attack
Tom Givens is a self-defense trainer out of Memphis Tennessee. He collected information from over 60 self-defense shootings and found that 86.2% of these shootings occurred at the ranges of 9 to 15 feet. If you are practicing for self-defense, it is great if you can hit a bulls-eye at 50 feet, but being able to hit it multiple times in rapid succession at 9 to 15 feet is better.


I Won't Hesitate to Pull the Trigger
It is a common belief for people to think that if they are in a life and death critical incident, they will not hesitate to stop the threat with lethal force. However, statistics show that throughout history, people who have been trained to kill often hesitate.
The book "On Killing" by Lt. Col. Dave Grossman helped firm up my understanding of humans and their capacity and willingness to use violence. In short, the vast majority of human beings are not wired to use violence on one another.
Lt. Col. Grossman goes into great detail to explain how, through the earliest of American wars; the Revolutionary War, the Civil War and the World Wars, the majority of the men fighting would purposely miss what they were shooting at. He explained how the aversion to killing another human was so strong that a trained soldier often times would not shoot another, even if it meant losing his own life.
I have also heard that there is a large percentage of police killed that either never fire their weapon, or made no attempt to. I did a little digging and found this according to the FBI in the 2013 Law Officers Killed and Assaulted Report.
Leading up to the Vietnam War, great effort went into figuring out how to train men, not only to kill but to do so without hesitation. Today's military are some of the most efficient warriors in the world's history. In 2013 there were 27 officers killed in the line of duty which, on a side note, was a far lower number than previous years. Of those 27, 18 either did not use or attempt to use their sidearm. You may think that they must have been jumped, but the report shows that only 5 were ambushed.
I am not criticizing these officers or the veterans that chose not to fire either. I am simply asking if these people, who's job it was to step into danger every day, knowing there was a chance they may need to use deadly force in the course of their career, failed to respond with deadly force, how can you be so sure you will?
Setting my machismo aside, I hope I respond without hesitation. I have done everything I can reasonably do to make sure I act, but I haven't been tested, so I don't know. I hope I never have to find out, I do not relish the idea of taking another's life, not because I don't want to hurt someone, no, I believe if someone threatens deadly force, they have written you an invitation to use it against them. There is still a lot of legal, personal, spiritual, mental and emotional baggage that goes with it.
If you're interested, I list a few ways to raise the odds you'll be able to pull the trigger in Are You Prepared To Use Violence to Stop Violence?

Please click here to vote for Prepared Christian as a top Prepper site!
If you liked this article please think about sharing it on the social media listed below, thanks!