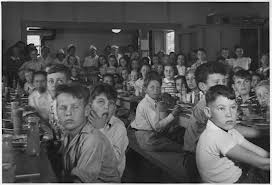 The rabble with them began to crave other food, and again the Israelites started wailing and said, "If only we had meat to eat! We remember the fish we ate in Egypt at no cost—also the cucumbers, melons, leeks, onions and garlic. But now we have lost our appetite; we never see anything but this manna!" Numbers 11:4-6
Most of us have never experienced food boredom, at least not on the level mentioned above. Those of us in first world countries are so blessed to have just about anything to eat in close proximity. I experienced food boredom a time or two in the service, but it was always short lived. Image only having the same 2 or 3 meals available to eat for the next six months to a year. Do you think you would get bored? How about your family? I have read about some children who simply refused to eat due to food boredom.
I think there are two types of artists; one who can look at various paints and see the individual colors and another who looks at the same paints and sees a finished painting. I think the same can be said for people who cook. I think people who can look at their pantry and food storage and see meals have it much easier.
If you're kind of person who sees the individual items, my only recommendation is to make sure you have an abundance of a variety of foods that your family actually eats. This way people won't have to eat rice and beans, beans and rice, rice with a side of beans, you get the idea

Picky Eaters
I'm not nearly as picky as I was as a child, but having been a picky eater, I understand it. I have Asperger Syndrome and people with Asperger's often suffer from sensory issues. There are some foods that either because of how they smell or taste, I just can't handle.
If you have a picky eater at home, you need to consider that when building your food storage. Their eating habits aren't going to change just because the stuff hits the fan. In fact, because of the stress of the situation, they'll probably cling to them even more.

Treats
I made two "cruises" into the Persian Gulf on the Abraham Lincoln aircraft carrier. Don't get me wrong, we ate pretty well, but after a month or two of "boat food," we really looked forward to pulling into the UAE and eating those small overpriced goat cheese pizza's. My point is that having treats and comfort foods stored away can help break up the boredom.

Final Thoughts:
Rice and beans do make up a portion of my food storage but we won't be eating them for every meal. We've also got an assortment of spices and herbs to alter the taste as well.
What other ideas do you have to help avoid food boredom?

Please click here to vote for Prepared Christian as a top Prepper site!
If you liked this article please think about sharing it on the social media listed below, thanks!