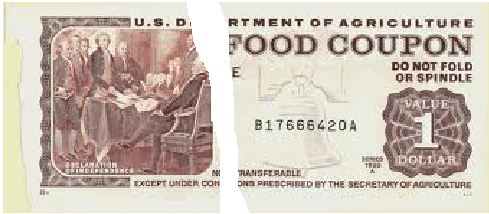 Not long ago, I posted an article called Nine Meals From Anarchy; a Food Stamp Melt Down. In it I explained that there has been looting and small outbreaks of violence in the past when there have been problems or delays with the food stamp system. I also made the point that I think the reason violence and looting were not sparked into large scale rioting was because of "nine meals".
I mean "nine meals" both figuratively and literally. Figuratively in the sense that, to date, the problems with the food stamp system have been corrected within a day or two at most. Literally because when people go hungry for three or four days in a row, they tend to act on it.
"If you look across the world, riots always begin typically the same way: when people cannot afford to eat food,"
That is a quote from Margarette Purvis, the president and CEO of the Food Bank for New York City, in an article from Salon.com. The article goes on to say that:
"Purvis said that the looming cut would mean about 76 million meals "that will no longer be on the plates of the poorest families" in NYC alone – a figure that outstrips the total number of meals distributed each year by the Food Bank for New York City, the largest food bank in the country. "There will be an immediate impact," she said."
In the last five or six years we have seen civil unrest and rioting due to the price or unavailability of food and the cutting of government entitlements in the following countries; Bolivia, Egypt, England, Greece, Guinea, Haiti, Indonesia, Italy, Ivory Coast, Mauritania, Mexico, Morocco, Mozambique, Senegal, Spain, Tunisia, Uzbekistan and Yemen.
You might be thinking that the people in those cultures are different that the American citizenry. I disagree! I think people are people, hunger is hunger and entitlement is entitlement.
The following video from Fox News says that the government is spending $80,000,000 to prepare for potential riots related to the cutting of food stamps. Here's a thought; money is tight, so we have to cut food stamps, but we're going to spend $80 million to prepare for possible riots because of this cut.
What Can We Do?
For starters we can remain calm and wait to see if anything does happen. Just in case, prudence might dictate that you get any grocery shopping you might need done before Friday. Keep in mind that we very well might not see any unrest on November 1st but we could see situations later in the month, when the realities of the cuts are felt.
I have covered what civil unrest might look like in What Does Civil Unrest Look Like and How Can You Stay Safe Near It? If there are riots, keep a safe distance and be prepared to defend your family. Also be on the lookout for the police response. I covered some of how the government has been gearing up for civil unrest in Government; the Good the Bad and the…What are They Planning
We can donate food to local food shelves or churches to help them meet the needs of the destitute. This is a much better option than giving the food out yourself.
Above all else, we can pray. Pray for those who are in legitimate need and will now not have food to put on the table. Pray that those who might be taking advantage of the system would change their ways. Pray for one another, that we may be blessed with wisdom and knowing God's will as we prepare and navigate our future.

If you liked this article please think about sharing it on the social media listed below, thanks!