To Order from Homespun Environmental just click the above image.
I was recently approached by Homespun Environmental, a company specializing in Prepper DIY water filtration. They sell a line of ceramic filters at a fraction of the cost of say Berkey or the others in the marketplace. They also provide you with the instructions on how to make your DIY filtration unit.
I have seen designs people have made with 5 gallon buckets and Berkey filters, which also uses ceramic filters. This would be cheaper than buying a Berkey, but the filters are still expensive.
The filters by Homespun Environmental are very affordable. The Emergency Water Kit is only $25 and includes one ceramic filter. If you do not have a water purifier, this is a very solid option, as they are offering premium filtration at a fraction of the cost of their competitors. You can find a full product line here.
To tell you more about Homespun Environmental, here is an article written by owner Russ Michaud.


Top of the List
Russ Michaud – www.homespunenvironmental.com
There is a feeling in the country that things are changing for the worse; the government is deep in debt, politicians are just looking out for themselves, and society as a whole is beginning to fray. For a variety of reasons it appears that the good old days are winding down and harder times are coming. A lot of folks look at our high-tech lifestyles and realize that if critical functions were removed they would be utterly helpless to fend for themselves. Living without the internet seems unimaginable to many; just think if they lost electricity, or grocery stores, or running water…
As the bad news continues to come in there are a lot of folks preparing for a life without some or all of our modern conveniences. There's a variety of books, blogs, and TV shows discussing how this might be possible. Of course there are many unknowns when planning for disaster, such as what happens, how long it lasts, your living situation, location, and financial circumstances. One thing that you will always need, no matter what happens, is access to clean water. Even a disaster that only lasts for a few days could become deadly if it leaves you without water.
This paper introduces ceramic water filter cartridges, which provide a low-cost, low-tech, well proven solution that enables clean water to be produced from just about any fresh water source.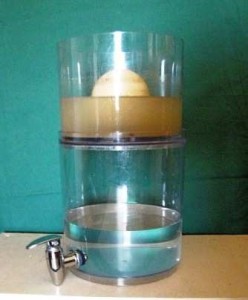 What is a ceramic water filter? The filter consists of a ceramic shell which usually contains activated carbon. The ceramic shell has sub-micron sized pores which filter out small contaminants such as bacteria and particulates while the carbon inside treats the water by removing a wide spectrum of chemicals. Specialized filters that remove particular chemicals such as fluoride or arsenic can also be manufactured by using other media in place of the carbon.
These filters are fairly low cost but are often bundled with fancy containers and big brand names that can add hundreds of dollars to the price. In reality though, you can make your own water filter systems at a much lower cost. This has been proven by missionary groups and NGOs in disaster situations all around the world.
Two pictures are presented below (in lieu of a few more pages of text) to explain how these systems can be made and used. The picture on the left is made from a couple of 5 gallon buckets with the filter in the middle. Though you can use any type of containers when building your system, the basic design is almost always the same: A top container holding the unfiltered water and the filter, and a bottom container to catch the clean water that drips from the filter spout. The picture on the right shows the parts that make up an 'emergency kit' which is used to create the system at left. (Currently this kit sells for only $25.)
These systems are portable, require no power, are very simple to create and maintain, and are low cost. They can be used with just about any freshwater source as has been proven throughout the world for the last couple of decades by a multitude of refugees.
How much water and how fast? One of the first questions most people have is "How much water are these filters good for?" There are two answers for this question. The filter will remove bacteria and particulates for as long as the ceramic shell is intact. The pores in the ceramic can get clogged over time, but it is easy to unclog them by using a slight abrasive to remove the outermost (clogged) layer of shell.
Chemicals are treated by the activated carbon inside which is used up after 6 to 8 months of 'normal' use. 'Normal' assumes 12 to 15 gallons per day from a natural water source. This implies the carbon will last for 3000 to 4000 gallons. The carbon's lifespan will be shortened if the water contains a lot of chemicals, such as chlorine. The filters can be stored indefinitely and used intermittently provided they are dried out well inbetween uses.
The amount of clean water a system can produce in a day is another question most people have. The water flow of a filter dripping out of the spout depends on the water level in the upper container, so as the water level decreases the flow rate slows. For a standard 5 gallon bucket the flow rate is 12 to 15 gallons per day assuming the bucket is refilled a few times. This is plenty of water for drinking and basic needs for a family. However, one can easily increase the flow rates if larger groups or bartering applications are needed.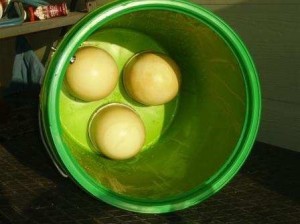 A very simple method to increase flow rates is to place filters in parallel. For example; if one filter is giving a flow of 1/2 gallon per hour, placing a second filter in the container will double the flow rate. (A standard 5 gallon bucket can fit up to three dome filters). Another advantage of parallel filters is there is more activated carbon so you can remove more chemicals. The downside to this method is that it costs more to implement.
A second method for increasing water flow is to increase the pressure on the filter. This can be accomplished by using deep upper containers to provide more water pressure, or by increasing the air pressure in the container using an air tight seal and a hand pump. The downside of air pressure is that it increases system costs and also requires manual labor.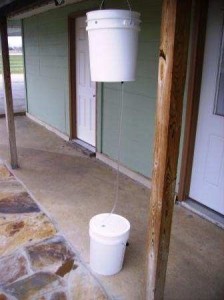 A third method that is low cost is to add a siphon tube to the output of the filter. This provides a pulling force instead of a pushing one. The force is proportional to the length of the siphon and the vertical distance it is from one end to the other; the longer the tube the faster the water flows. For a stacked bucket system (where one bucket sits directly on top of the other one, and the vertical distance is only a foot or so) the siphon can double the flow compared to a filter just dripping. A 'separated bucket' system (shown to the right) uses a long siphon; this can increase flow rates a lot more depending on the siphon height. Please note that if you separate the buckets like this, the bottom one should stay covered to prevent other contaminants from getting into the filtered water. This method is probably the best due to its low cost and low effort required.
There is a caveat to increasing flow rates and that is that it decreases the 'contact time' that the water has with the activated carbon and thus reduces the ability of the carbon to adsorb some chemicals. The time needed varies with the type of chemical being adsorbed so unfortunately there is no straightforward answer as to how fast you should go. The best advice is to filter the water however quickly you have a demand for it.
These filters are adaptable to many applications and configurations. They are used in rain water systems, well water remediation, and back country living as well as disaster situations. Besides tens of thousands of refugees, farmers in Uganda, apartment dwellers in NYC, and water vendors in Central America have all used these filters successfully.
One additional benefit of these filters is their potential value as barter items if times do get really bad. Something fairly inexpensive now could be worth a whole lot more later on, especially if they're useful.
Conclusion Ceramic and carbon water filters are excellent devices for family and small group sized systems. They are low cost, do not require electricity to operate, and are simple to assemble and maintain. They work on both biological and chemical contaminants in water sources where many other filter types only work on one or the other. In Do It Yourself applications they provide an outstanding value and allow for a wide degree of customization. They can also provide a form of investment as they would enable bartering for other valuable goods and services in 'grid down' scenarios.
Homespun Environmental is a small business catering to the DIY 'prepper' market for ceramic water filters. DIY (Doing it yourself) allows for much lower prices and systems that can be customized to particular circumstances and needs. They offer individual components, affordable, emergency water filter kits, and systems for the outdoor sportsman.

To Order from Homespun Environmental just click the above image.

Please click here to vote for Prepared Christian as a top Prepper site!
If you liked this article please think about sharing it on the social media listed below, thanks!