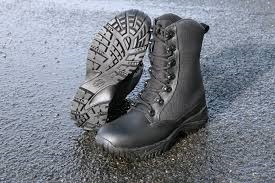 I was recently contacted by a representative of ALTAI and asked if I would like a pair of the ALTAI™ MF Tactical Boot to wear and write a review on! I gladly accepted, as I had recently been considering buying a pair of boots.
When I saw the claim of "no break-in period", I was more than a little skeptical. Having served four years in the Navy and breaking in more than a few pairs of flight deck boots, I remember how painful the break in period was.
Some quick facts about the boots:
• Altai® is light at 650 grams – 23 ounces (size 9)
• Waterproof / breathable bootie
• NO break-in period.
• Highly functional upper with SuperFabric® material
• Abrasion Resistant
• Quick drying
• Stain Resistant
• Air Permeable
• Vibram® outsole – hiking tread
• Slip Resistant
• crimped laces
• Speed lacing – metal eyelets
• Padded nylon tongue
• Waterproof leather toe
Here is a 360 view with some information on some of the features.
My Take:
As I said, I was a bit skeptical when I saw the claim of "no break-in time". While I did need to put in an insert, I think this had to do more with my feet than the boots. To be honest, I did not put them through a rigorous stress test. I wore them through my normal day. However, I will often times have to take my usual shoes off at my desk because they're uncomfortable after a while. These boots are quite comfortable. In fact, probably one of the most comfortable pieces of footwear that I have worn right out of the box. I believe that they'll probably get more comfortable the more they are worn.
It's been many years since I wore something with this much ankle support. Because you can't move your ankle, you have to walk a little different. This goes for all boots that go over the ankle, not just these boots. I don't know if all military style boots were made the way flight deck boots were; mostly leather. Because the upper part of these boots are made with SuperFabric®, they actually hug more and offer more ankle support than flight deck boots did.
The boots are made in Korea, however the SuperFabric® material is made right here in my state, Minnesota!
Because of the features of these boots and the level of comfort, I think they would be well suited for anyone whose footwear is important and considered to be part of your gear, not just an accessory. Whether you're in the military, are an officer, or spend time outdoors, I think these boots will serve you well!

Please click here to vote for Prepared Christian as a top Prepper site!
If you liked this article please think about sharing it on the social media listed below, thanks!