Thank you for your consideration on becoming a member of the Preparedness Club!  As a member, you will receive discounts on preparedness related goods and services from a large number of Preparedness Club Supporting companies that are listed below.  You will also receive 50% off all future Prepared Christian eBooks.  There will be at least one monthly give away for members as well.  More importantly than all of this, you will be supporting the Prepared Christian ministry.
One of the added benefits of joining the Preparedness Club is that each month, every member is automatically entered into a contest for a giveaway. To keep things fair, members will only be eligible for one prize per year.
The sign up form is at the bottom of this page.

Here is a list of the Preparedness Club Supporting companies along with the discount they are offering.
Preparedness Club Supporters
Here is some information about the supporting companies, and a statement from me on each.



AlertsUSA has been in the risk management business for more than a 10 years. The formal alert service was launched less than 90 days after the attacks of September 11, 2011 by individuals with decades of experience working closely for and with the U.S. government, including members of Congress, in a variety of defense and intelligence matters.
The core focus of the company is leveraging the national wireless infrastructure and mobile technologies to inform customers of breaking events and developments posing a direct threat to the safety and security of U.S. citizens and interests and home and abroad.
Chris says, "I have recently started getting alerts from AlertsUSA.  I try to keep up with current events but I have been tipped off by AlertsUSA several times before I saw the information anywhere else.  I also like getting alerts when I am away from home.  The 25% off is a very good deal and if you're someone who likes to stay "plugged in" to news, I think you'll really enjoy it."
Offer: 25% off yearly membership









Today, Bruce and Phyllis Hopkins run their business, out of their home with a 2,500 square foot warehouse out back (Phyllis running it full time and doing the bulk of the work along with their daughter, Allison), dropshipping the highest quality dehydrated and freeze-dried foods—and other emergency supplies—direct from the manufacturer to you, and warehousing the canned meats, canned cheese, canned butter and diatomaceous earth in their own warehouse. Best Prices Storable Foods (aka Internet Grocer) is truly looking out for your interests . . . at the best prices for you!
Chris says, "The Internet Grocer is one of the first prepper-type food stores I visited on the internet when I started prepping.  Their prices are very good (even better with the Preparedness Club discount) and I like the new site design."
Offer: 5%-10% off depending on purchase



From Thomas J. Sciacca, President; In January 2002, the company started CampingSurvival.com. I love the outdoors, am a former Marine, and enjoy hunting, camping, playing outdoors with our kids and practicing urban survival while enhancing my wilderness survival skills. I therefore started this new army / navy, survival type store on the internet.  CampingSurvival.com. It's not about the END OF THE WORLD – It's not about surviving a hypothetical PLANE CRASH – It's about the SATISFACTION YOU GET knowing you can take care of yourself and/or your family in ANY SITUATION, ANYTIME, ANYWHERE!
Chris says, "Camping survival was the first site I purchased non-food related preps from online.  They are also one of the first sites to support Prepared Christian by buying ad space.  They have given lots of paracord away to the Prepared Christian community."
Offer: 5% off all purchases



We currently reside in and operate out of Wasilla, AK. I was raised in southern KY, my wife in TN. I spent my high school years in MI before moving back to KY and eventually getting married and moving out to NC. My background is in construction (skilled manual labor). One day I decided to try to apply those skills in a different medium, leather being my choice for a first attempt. Needless to say, my first few projects were catastrophes. Not being easily discouraged, I pressed on until I figured out a way to make the leather work make sense the same way a construction site does. After starting a family in NC, a series of short adventures landed us in Chugiak, AK (if you ever care to hear about it, chat me up sometime…). Now I am a full-time custom leather crafter raising a family on the doorstep of America's Last Frontier.
Chris says, "I have only recently stumbled upon Deepwood Handcraft.  I am blown away at how beautiful the bags are.  I have been looking at leather messenger type bags for a couple years, and the bags from Deepwood Handcraft are works of art.  Not only that, but you can have them custom made to meet your needs.  The prices are on par with other handmade leather good, but with the 25% off for Preparedness Club Members, they are a steal!"
Offer: 25% custom made leather goods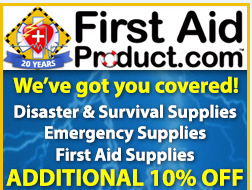 The road to becoming the America's Favorite CPR, First Aid & Safety Company™ began in 1993 when American CPR Training opened offering CPR & Safety Training at ½ the Time, ½ the Price and Twice the Fun! The same vision and passion that began then is evident in our over 1000 Instructors throughout the World, 70+ Safety Related Websites, Retail Locations, Training Centers, and our new Distribution Center and Corporate Hub.
Our commitment to Customer Service not only makes Express Companies, Inc. a great place for our Customers to find Value and Customer Dedication in fulfilling their Safety needs, but also a great place for our Team Members to work. This drive has led our growth from a small local company to now playing a major role in Safety both on and off every continent, and as an integral part of the standard setting bodies worldwide.
We believe in working hard and having fun, while nurturing our client relationships to support our fast growing expansion. This has led to some very dynamic Strategic Partnerships, and long term relationships that allow us to serve all our Clients, Customers, Distributors, Instructors, Students, and YOU with the benefits of one of the most advanced Environmental Health and Safety sources in the World.
Chris says, "First Aid Products carries a huge line of medical and first aid gear that many preppers will love.  From Adventure Medical kits, to Quik Clot, their prices are very competitive before the discount!  If you need any medical preps, with the 10% Prepared Christian discount, you'll save a bunch!"
Offer: 10% off all purchases







My name is Wrex Johnson, owner of WCJ Sales. I'm a Father, Veteran, and Patriotic American Christian. In light of recent events it has become apparent that things in our country are not getting better anytime soon. We are in big financial trouble with no end in sight! When a natural or manmade disaster happens it takes time for the government to respond leaving the people that are affected to fend for themselves. Making us our own first responders. Make a difference and be prepared to provide first aid and other critical lifesaving necessities for your families and others nearby in immediate need. My goal is to provide you, the TRUE first responder, with these products. That way you are prepared to handle ANY type of emergency situation with confidence. WCJ SALES is a registered Guardian Representative and we are proud to be able to offer this to you as an affordable solution to be prepared for an event that we pray will never happen. But if it does, I pray that you are prepared to take care of yourself, you're families and your neighbors. God Bless.
*These survival products were designed using advice from experts in the emergency preparedness industry. They follow guidelines given by government agencies and non-profit preparedness organizations.
Chris Says, Wrexford and I agree that we need to be ready to be our own first responders. I also appreciate that he is taking 10% off of his commission, when distributers do not have to. He feels strongly about helping you prepare and is putting his money where his mouth is. Thanks Wrex!
Offer: 10% off all purchases


We have been an Authorized Dealer of the Berkey Water Filtration Systems and other products for over 7 1/2 years. On our blog, we provide plentiful information relating to Berkey Water Filtration and many other preparedness topics.
We personally use Berkey Water Filtration Systems and love using them daily. Whether you need Water Purification Systems for your Home, Office or Travel, we are here to help you.
We have thousands of satisfied customers who love the Berkey Water Filtration Systems and other preparedness products!
Chris says, "I have purchased all of my water purification from the Berkey guy, which was long before he became an advertiser.  I have a big Berkey, and a Berkey sport bottle for each BOB."
Offer: 7% off all purchases



Everything you see on their website is in stock and shows you exactly how much of that product is in stock.
LuckyGunner.com ships same business day if you order before 3pm ET or following business day if you order after 3pm ET or on a weekend/holiday.
Lucky Gunner offers excellent customer service.  Whether you need help with an order, have a question about a product we sell, or need help resolving an issue- their courteous professional team of shooters is ready to help.
Chris says, "I really like the Lucky Gunner site, so much so, that I became an affiliate over a year ago.  At the time of this writing, 4/12/2013, they have all calibers in stock, which is saying something!  Don't forget that they carry more than just ammo!  They carry a wide variety of shooting accessories.  Giving a discount on ammo isn't something I have seen, but Lucky Gunner is supporting the Preparedness Club with a 3% discount!"
Offer: 3% off all purchases (yes including ammo)



Minimus began when we (the Shrater family) were on a vacation to a cottage in New Hampshire. When we realized we would need to throw away several bottles of condiments at the end of our trip, we thought, "wouldn't it be great if there was one place you could go for the small packets of condiments — better yet, a place to get all of your travel accessories and travel size item needs?"  Since that initial idea, we've grown to include a variety of categories of travel size and trial size items. Many of the items are not available for retail sale anywhere else. Our offerings continue to grow with the help of our customers' input.

Chris says, "The first time I heard of Minimus was when Trudee's cousin placed an order to make care packages to send to her husband and company who were serving in the Air Force overseas.  When Minimus heard their products were going to the troops, they stepped up and gave a generous discount.  We have since used them for filling BOB needs that we had a hard time finding anywhere else."
Offer: Free tube of Banana Boat Sunscreen with each purchase.







For more than 42 years, Paladin Press has provided readers and viewers with top-quality books and videos on a variety of fascinating and unusual topics, including reality-based self-defense, survival and self-reliance, weapons, combat shooting, military and police science, marital arts, and personal freedom. To do this, we seek out authors who are knowledgeable in their fields and encourage them to write or create videos for our niche market.
Paladin has survived all these years in the volatile publishing industry by adapting to the changing technologies and demands of our audience. We adjust our offerings to make them timely and relevant to today's realities. From a starting inventory of a half-dozen military manuals, Paladin currently offers more than 800 titles in a variety of formats.
Today the publishing industry is racing to take advantage of rapidly changing electronic and digital technologies, and Paladin is no exception. We currently offer over 200 of our books for electronic download and over 250 of our video titles for digital download, ensuring instant access to favorite books and videos. Additional titles are being added monthly.
Chris says, "Paladin Press carries books on topics you just won't find anywhere else.  I have purchased several over the years and still have a few on my wish list."
Offer: 15% off all purchases









Paracord City is your one-stop shop for your paracord project needs. You'll find 30+ colors of your favorite 550 Paracord along with clasps, hooks, and many other accessories to make your projects a success. Veteran Owned and operated. Come by and check out our store at ParacordCity.com.
Chris Says, "Paracord City is co-owned by my friend Dene Brock.  They carry all things related to paracord, including a large selection of colors.  You can even order custom lengths!  I also like that Paracord City is veteran owned and operated."
Offer: 10% off all purchases







PortableSolarPower.Biz is manufacturer of high quality and good looking solar power generator equipment and systems. We got started in this business by being a subcontractor building custom portable solar power systems for Powerenz Inc. and we specifically handled the production of the following products lines: LFP 40 Sling Pack, LFP 40 Hard Case, LFP 100 Portable Solar Generator, and the LFP 180 Portable Solar Power Systems. We also handled and produced most of the larger custom system designs for larger military related clients. We are no longer producing portable solar power systems for Powerenz Inc. and now are offering custom solar power solutions directly to the marketplace.
Our goal is to provide the world with superior custom portable solar power generator systems. Our specialty is designing custom portable solar power solutions that are designed to specifically to provide the weight, size, and power requirement needs that are provided to us by the client. We are able to quickly produce prototype portable solar power system solutions for clients who may be on a short deadline.
Chris says, "I remember hearing multiple reports of people using generators to charge their cell phones after hurricane Sandy.  With a portable solar charger, you could ensure you always had a means to charge your phone or larger electronics."
Offer: 10% off all purchases







PrepareNOW Outfitters has both an online store at www.preparenowoutfitters.com and a retail store located in Fort Worth, Texas at 707 N. Freeway, #107. PrepareNOW Outfitters carries only the very best in disaster and emergency supplies and has the expertise to assist you in all of your preparedness efforts. PNO carries the best brands including Katadyn, Maxpedition, LifeStraw, Mountain House, Sabre, Adventure Medical Kits and many, many others. Quite simply, we have the best survival supplies on the planet!
Chris says, "PrepareNOW Outfitters is fairly new to me, but I like what I see.  They have a great selection and were very eager to offer a 5% discount and free shipping to boot!"
Offer: 5% off all purchases and free shipping







ARE YOU PREPARED?
QuickStove sells the amazing QuickStove Fuel Disk — made from cedar to last forever, designed to cook 2 meals with only 1 Fuel Disk, designed to bring water to a boil in less than 5 minutes. QuickStove also sells the best emergency stoves and portable outdoor cooking platforms on the market, including the Cube Stove, and Folding Firebox Stove. They're perfect as a camp cooker or hiking stove, and can be used for many other outdoor cooking uses. They are also essential for heat or cooking in emergencies and survival situations.
Chris says, "If you have a BOB, you probably have at least one means of starting a fire. What if you can't find any dry tinder? With a QuickStove, you have a stove to cook on, can buy the fuel for it and can have it all ready to go, to make sure you can make fire."
Offer: 10% off all purchases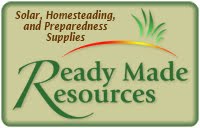 Plan. Prepare. Preserve. . . . .
At Ready Made Resources, we can help you accomplish all three! Whether it's setting up a complete grid-tie or non grid-tie solar system, getting back to the basics of homestead living, or preparing you for unexpected emergencies, we can help supply you and your family with the provisions for making that possible.
We also believe in the products we sell. Anyone can market their products, but at Ready Made Resources, we actually utilize the products we sell! In fact our storefront – sitting on a scenic, 25 acre parcel in the heart of the Smoky Mountains – is presently co powered by solar and wind energy. We are one of the largest dealers in the nation of all major solar products, including Outback, Xantrex, and Sharp & Sunnyboy. And we strive to offer the lowest prices available on the web.
Chris says, "Ready Made Resources was the first site to support Prepared Christian by buying advertising space.  One of the things that makes them stand out is the variety of equipment they carry, from food storage to high end Night Vision Goggles (NVG's) to solar equipment.  I also like that they use the equipment they sell."
Offer: 10 pre-65 dimes with every $100 purchase of Mountain House



Ready Reserve Foods, Inc. is located in Twin Falls, Idaho. We were established in 1972 and have continued perfecting our products over time. We are proud to be the leading supplier in the preparedness foods industry. Ready Reserve Foods is a family owned and operated company. Our family takes pride in what we do, not only in the quality of our products, but also in our customer satisfaction.
Chris says, "This was also one of the early food related sites I visited when I started prepping.  What a huge selection of food!  They carry entire meals, dairy, a la carte, and even have some gluten free options!
Offer: 10% off food only



ReadyToGoSurvival.com was created to help people and their families get out of danger in emergency situations – fast. Research shows that speed is the key to evading harm in a disaster. When emergency strikes, you want to spend your precious time getting to safety, not packing. With our team of disaster responders, law enforcement professionals, and military personnel, we've created several survival kits with the best balance of quality, practicality, and necessity. If your survival needs require something more customized, feel free to call us and we can discuss your specific needs and if a customized kit is better for you. We also offer a Amazon price match guarantee, so rest assured that you are getting the best price possible without the headache of assembling your own Bug Out Bag. We're turning fears into a feeling of empowerment and changing the mindset of being scared in to being prepared. Just grab and go, we will take care of the rest!
Chris Says, Ready To Go Survival offers high quality bags with high quality gear inside. If you're in need of a pre-made BOB, they're worth taking a look at.
Offer: 5% off all purchases




"Where will you be when you run out of protein? Of the three factors that make up your survival diet, protein is the most important. Your body needs the amino acids from protein to perform every reaction in your life. Without them, energy and mental function starts to fade within days, and organ failure starts to set in within 2-3 weeks.
The bad news is, the most storable forms of protein are the least complete! If a protein doesn't have a full complement of the eight essential amino acids, you'll be set up for deficiency. The most complete forms of protein (meat, eggs, dairy) are the hardest to store, heaviest, and easiest to spoil. That is, until now.
SurvivAMINO™ is a revolutionary new product that has been proven to act as a total replacement for protein in the most demanding of circumstances. With a full complement of the eight essential amino acids, you have everything you need to survive in a fraction of the space and weight. One bottle is equivalent to the amount of protein you need for a week! And best of all, it's a shelf stable formula made of the purest, crystalline amino acids from top medical manufacturers worldwide. No binding agents, no additives. Vegetarian, gluten, soy and GMO free. Get yours today while supplies last!"
Chris Says, I wrote a review on SurvivAMINO that can be seen here. I think this product would be a great fit for BOB's. I don't think bugging out is a good idea for most situations. However when you do need to BO, there is a good chance you'll be expending more energy than usual and how much protein do you have in your BOB's? Having this in your BOB is a good way to make sure you have enough protein, and in a lightweight container.
Offer: $5 off each bottle

Our goal is to provide you the bags and tools to build your own, customized, emergency kits. We have found that most pre-built kits are filled with items of poor quality, items you don't need, or are lacking essential items. Our site lets each individual choose what will work best for them. Whether you are building a kit from scratch, adding a few items to an existing one, or quickly assembling a full kit for a loved one, we have what you need. We hope to get you and your family better prepared for any emergency that comes your way.
Chris Says, I'm pretty excited that Survival Gear Bags has agreed to support the Preparedness Club. Not only do they have a great selection of bags, but they carry a nice selection of survival and tactical gear.
Offer: 10% off all purchases


Subscription Information
Yearly membership accounts renew automatically, one year from the date of purchase. Monthly membership accounts will renew 30 days after purchase. You can cancel at any time by sending an email to: support (at) preparedchristian (dot) net. Please use the word "cancel" as your subject and include your full name. Upon cancellation, you will still have access for the entire purchase time.
Upon purchase, you will be automatically taken to the membership area that contains the coupon codes. You will also be sent an email containing your username and randomly generated password. You can change your password after logging in.
NOTE
Unfortunately the automated join function is currently down. If you would like to join the yearly Preparedness Club membership, please email Chris (at) preparedChristian (dot) net and I will give you instructions on how to join.