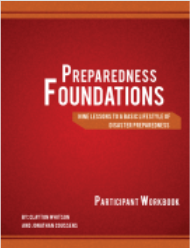 This review was written by my beautiful wife Trudee.

Preparedness Foundations
In helping Chris out, I thumbed through a book that was sent to him.
This is a "Participant Workbook", designed to go along with a class on preparedness that you might see held in your own church! Of course, since Chris and I have briefly been a part of our preparedness class at church, this really piqued my curiosity!
I have to admit, I wish we'd have come up with this! It's EXCELLENT! The authors, Clayton Whitson and Jonathan Coussens have done a beautiful job compiling a lot of information with useful check lists without overwhelming the reader. This book is 76 pages! That's it! It's colorful and very well-written in non-threatening terms!
There are sections of "homework" that are designed to help get class participants thinking and moving on preparedness. The contents and chapters are easy to get back to if you find yourself wondering about a specific topic you covered in class. There are colorful pictures and great explanations of them!
Trudee's Take:
I find myself wishing I could sit through this class with these instructors, and I've been prepping for a few years now! This book is fantastic! I don't know where they're holding classes but, given half a chance, I'd be there in a heartbeat!
P.S. I checked out their website. A husband and wife team?! No way! What are the odds?!?! The book can be purchased in PDF format here, be forewarned, it is on the pricey side.

Please click here to vote for Prepared Christian as a top Prepper site!
If you liked this article please think about sharing it on the social media listed below, thanks!