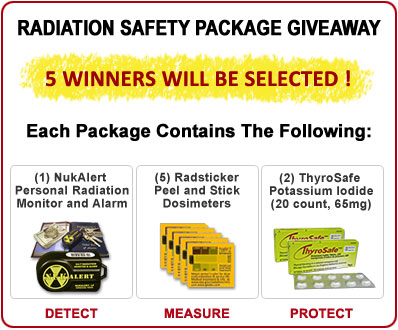 This is just a reminder that AlertsUSA has generously donated 5 of the radiation safety packages for Prepared Christians who sign up for the free Threat Journal weekly newsletter.
Recently AlertsUSA did a great job answering some questions in an article called "Current Threats to America with AlertsUSA" .  Following that, I posed the question "What would you do, North Korea Attacks".
As I said in "Nuclear Preparedness: Shelter"
"While I do believe that there is a small chance of North Korea (or anyone else) dropping nukes on the United States, it is still a possibility.  If I had a crazy neighbor who hated me, who had a shotgun and said he was going to use it to kill me, I would be foolish to just dismiss his threat.  That doesn't mean we should live in fear.  We should just be aware of the threat and have a plan for how to respond when or if the small chance becomes a reality."
Since there is a chance that North Korea (or a terrorist group) may launch some type of nuclear attack, having a radiation safety package could come in very handy.  For those unfamiliar with NukAlert, it is a small, lightweight device that will beep when it detects radiation.  It will beep from one to ten times, depending on the level of radiation.
Getting the weekly publication, Threat Journal , is a culmination of many of the alerts through the prior week.  I've had it for the last two years and they always have a story or two I missed.
AlertsUSA has been kind enough to offer special pricing.  Normally, the service is $99 a year.  They are now offering their service for $75 a year for Prepared Christian readers.
This is a great opportunity to get a very nice prize.  Please share it with anyone you think could be blessed by either the newsletter or a chance to win the radiation safety package.