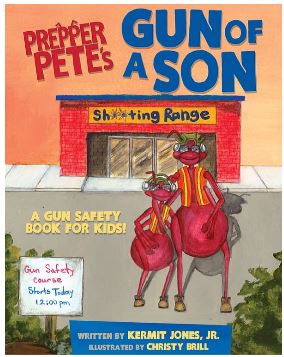 If you're not familiar with the Prepper Pete books, let me tell you a little about them! The Prepper Pete books are children's books that explore preparedness related topics in ways that are easy for children to understand.
Gun of a Son is the third installment of the Prepper Pete books. It is the story of Prepper Pete buying his son Charlie his first firearm and how Pete teaches his son to use the firearm safely and correctly. Going through a gun safety class, and later spending time at the range, and hunting together.
Gun of a Son teaches all of the safety rules as you would expect, as well as what kids should do if they find a firearm.
The book also shows the mistakes made by the grasshopper to show the dangers of making mistakes. This is probably my favorite aspect of the book, as I believe the visual example of why we don't do things will help some children learn the concept better.
If you have young kids, this would be a great way to introduce these concepts to them. The same goes for all of the Prepper Pete books, which you can find by visiting the See the Books Page.. There are currently three, with more in the works! If you have a good idea for a topic, you can submit it on the See the books link above.
Author Kermit Jones Jr. contributes a free eBook version of Prepper Pete Prepares to one winner every month, and offers all members a free companion eBook with proof of purchase to all Preparedness Club members.

Please click here to vote for Prepared Christian as a top Prepper site!
If you liked this article please think about sharing it on the social media listed below, thanks!