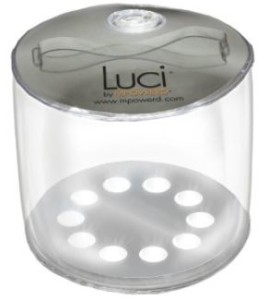 Every once in a while I get to review an item that, because of features, potential and its price, is an item that I am happy to tell you about! LUCI is one of these! Created by MPOWERED, LUCI is an inflatable solar lantern with a diameter of 5". It's about 4" tall when inflated and 1" tall when collapsed.
LUCI is waterproof and shatterproof. It is very lightweight and affordable; the Luci Solar Lantern
I was sent retails for only $15! Other models can run up to $25.


Features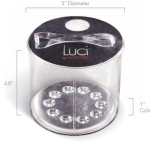 LUCI is made up of 10 LED lights, a solar panel and a rechargeable battery.
It is rated for 500-2000 cycles, meaning full battery cycles from full to empty. If you use it every day for twelve hours, it is expected that it'll work for about two years! If you use LUCI occasionally you can expect many years of use.
The LED bulbs have a lifespan of 25,000 hours, and the manufacturer states that they will not burn out during the life of LUCI.
LUCI will hold a full charge for about three months. After that it will retain half a charge for up to two years!
There are three power settings; low, high and a slow flashing.
LUCI produces enough light to illuminate up to an 8-10' square foot room.
LUCI is rated to run in temperatures from 15-122 degrees.
There is a plastic strap on the top and bottom. A carbineer would be needed to hang it from something to cast light or hang upside down to charge.
LUCI can be charged from with sunlight or incandescent light and takes 8 hours for a full charge.


Potential
LUCI is being marketed as offering "solar justice" to the 3 billion people in the world who either live without electricity or can't afford it. They even have a program where you can MPOWERED for a LUCI to be given to someone in need!
LUCI will effectively lengthen the ability to get things done after the sun goes down. That is the case for those living without electricity now, and for anyone who owns one if the power goes out!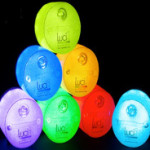 Luci doesn't act like a flashlight. To be fair, flashlights don't serve the same purpose as LUCI in my book either. A flashlight is a great tool for casting light at length or lighting a specific area for a short time. LUCI is geared toward lighting a general area for a length of time.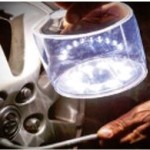 Just some of the uses I can see are: In the BOB, lights out/blackout kit, glove box or trunk for use during roadside emergencies, lighting an outdoor area for night gatherings, floating in the pool for evening swims (did I mention it's waterproof?!?!?). I think LUCI will give a scared child much more comfort in a blackout than a flashlight, as it lights up a bigger area.


Price
As stated above, the Luci Solar Lantern
that was sent to me costs $15. You can visit the MPOWERED site to find all four versions, including the ones in various colors! They range in price from $15 – $25.
At these prices, I think they make a great addition to anyone's preparations! They would also make great gifts for those who may not be preparedness minded!

Please click here to vote for Prepared Christian as a top Prepper site!
If you liked this article please think about sharing it on the social media listed below, thanks!