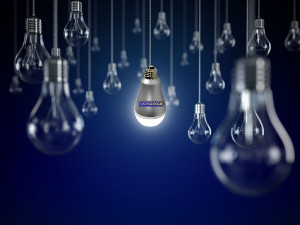 I was recently asked if I wanted to review a LINK SmartCharge™ light bulb. It is an LED light bulb that contains a 4 hour battery backup. I said "yes," as I think this could fill a role in power loss preparations for many of us. A flashlight is great, but unless you have them scattered around the house, you need to go looking for one. Flashlights are great for providing direct light, but not great for lighting up a room. Preparedness Club members, make sure to see the bottom for special pricing!
The LINK SmartCharge™ turns on as soon as a loss of power is detected. The following are some features provided by the manufacturer.
SmartCharge™ Features:
• Works with a Standard Light Fixture
• 4 hours of Light During a Power Outage
• Built in Rechargeable Battery / Charges during normal use
• Turns On/Off from the Switch During Power Outages
• Energy Efficient, ROHS Compliant
• Instant On
• Rated to last for 40,000 hours, 25 years
– Brightness – Minimum 350 lumen
-Annual Energy cost – .72¢ USD
-Color Temperature – 5000K
-Wattage – 5.5 Watt
-40 Watts equivalent
-Bulb Voltage – 110-240V
-UL, CE, FCC, & ROHS certified certifications
It fits in a standard light socket, and acts as a normal light bulb until the internal circuitry detects a loss of power, then it switches to the battery backup power. As you can see from the pictures, there is less light in "grid down," running on batteries mode.
I see this as a good fit in a few situations.
If you have a battery backup UPS on your computer, you know that if power is lost, your system and any peripherals attached to it stay on. Though some units have a long charge, the purpose of a UPS isn't to keep you up and running until power is restored. The purpose is to let you finish your work, save it and shutdown, thus making sure you finish your task. I see the LINK SmartCharge™ as a product that can let you finish what you were doing. That is, unless it was something that required electricity of course. It then provides a light source for you to get your Lights Out Kit and get ready, just in case the outage is a bit longer than 4 hours. It will also provide that 4 hours of constant light, more if used sparingly.
While our grid is fragile, in that it takes little to bring it down, it is pretty reliable in the amount of time it is up. The founder of the LINK SmartCharge™ is from India, where there are a lot of power outages. If you live in a place where the grid isn't reliable, the LINK SmartCharge™ could be a very effective tool to provide light in between outages, as well as during.


My Take
Please forgive the quality of the images. They were taken with my iPhone, and I am just pretty happy my thumb isn't in them. I'll start by saying that I prefer a softer light bulb. The 40 Watt is what I normally use in the office. So, for me, the
LINK SmartCharge™
is a great fit. If you prefer a very well lit room, this might not be the best option, unless there are other lights on as well.
The
LINK SmartCharge™
gave off a whiter, cleaner light than the yellowish tint the regular 40Watt put out. Now, if you watch any of the videos, I really think they do themselves a disservice. To simulate a blackout you need to do more than just unplug the lamp. Simply unplugging it from the wall does not simulate a power outage. In a power outage, there are still things connected to the circuit in your house, such as the stove, etc., that are plugged into the outlets. The bulb needs to detect something else to complete the circuit to stay on.
To get by this, they seem to use another light as the other electronic device drawing power. This makes the room look very bright while power is on, and very dark; darker than it really is, when power is "out". I used a fan as the other device, and the difference in the light provided between modes is very minimal. I was surprised how much darker the picture was in the after picture, because I thought it was almost the same level of brightness while I had it on in battery power mode.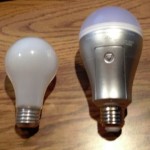 As you can see, the LINK SmartCharge™ is bigger than a standard bulb. It doesn't bother me, but if you have an enclosed fixture, it might be very tight, or not fit at all.
The price is $34.95, which isn't too bad when the average LED bulb goes for around $20.00. Pay an extra $15 and you get one that will sense when the grid is down, and run off of the battery for another four hours.
I'm going to give this item 4 stars. I think it is a very clever idea, and designed well. If they would have changed the design so that power just needed to be lost from the source, and the bulb would stay on, I would give it 5 stars. That would allow for one to charge it with a small solar panel, and have 4 hours of off grid light at night.
The folks at LINK SmartCharge™ have agreed to give Preparedness Club members a 25% discount until January 5th 2015! Log into your account to find the coupon code.


Please click here to vote for Prepared Christian as a top Prepper site!
If you liked this article please think about sharing it on the social media listed below, thanks!