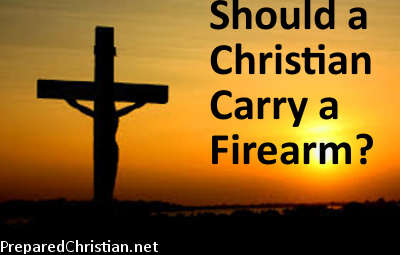 I was originally going to write about whether a Christian should carry at church, but the issue is broader than that, so I decided to expand it, and discuss carrying at church as a part of this topic.


Should a Christian Use Self-Defense?
I covered this topic thoroughly in Should Christians Practice Self-Defense. In an attempt to keep this article slightly less than a novel, I am only going to bring up a couple issues here about Christians and self-defense.
I have been accused of twisting God's Word and told that I should be ashamed for telling people that God is in favor of people using self-defense. First, I have come to my belief based on what scripture says and the use of common sense. I have not twisted scripture to fit my already held belief. If you are of that opinion, do me a favor and show me where I am wrong in scripture. We're both entitled to our opinions about the use of violence. However, we are not entitled to making scripture say something it doesn't say. I can show you several verses where God either used violence, or mandated it.


The Lord Abhors Violence
"The Lord hates violence" is a saying I have heard a few times in my life. It never really made sense to me, because of how He used violence to defeat His enemies throughout the Old Testament and will in Revelation.
I have a hunch that the person who came up with that saying and those who espouse it now, are actually the ones that hate violence! Doing a search for the word violence at Blue Letter Bible brings up over 50 verses and not one of them includes "The Lord hates violence".
There are several verses decrying the use of violence, but what these people either don't see, or leave out is that these verses decry the use of violence by those who clothe themselves in it and love it. Not one mention is made of never using violence to defend oneself.
Here are some examples:
Psalms 11:5 "The LORD examines the righteous, but the wicked, those who love violence, he hates with a passion."
Psalms 7:9 "Bring to an end the violence of the wicked and make the righteous secure— you, the righteous God who probes minds and hearts."
Proverbs 21:7 "The violence of the wicked will drag them away, for they refuse to do what is right."
Now one might say that doesn't say we're permitted to use violence. There are several verses where God commands the use of force to destroy His enemies or uses it Himself.
Where is the line; when are we permitted to use violence then? Let's take a look at David.
As a very young man, he stood before an entire army and condemned them for their blasphemy against God. He then proceeded to kill Goliath and cut off his head. He entered into many wars and smaller conflicts throughout his life. It wasn't until David turned away from God, murdered Uriah and let his bloodlust take over that he got into trouble with the Lord. David's love of violence and unrighteous use of it, is what almost led to his being eternally separated from God.


Jesus is a Pacifist
No, no He is not. He was non-violent. There is a big difference! A non-violent person is non-violent until they need to be. A pacifist refrains from it even at the cost of their own or a loved one's welfare.
Jesus practiced avoidance and de-escalation at various times; when they went to get stones to kill Him and again when He said "he who is without sin cast the first stone" are two examples that come to mind.
I have read a few articles that say that the angel referred to as the Angel of the Lord, was actually Jesus, before He was born of the flesh. I don't know if this is true or not and is something I have wanted to look into, but have not yet. If this is true, then read the Old Testament again and look at the different accounts the Angel of the Lord using violence. One would be killing 185,000 Assyrians for example.
Even if that is not true, it does not change His use of violence in the end of days. He kills with the very word of His mouth:
Revelations 19:15 "Coming out of his mouth is a sharp sword with which to strike down the nations. "He will rule them with an iron scepter." He treads the winepress of the fury of the wrath of God Almighty."
Revelations 19:21 "The rest were killed with the sword coming out of the mouth of the rider on the horse, and all the birds gorged themselves on their flesh."


Turn the Other Cheek
There are so many people who think this verse means, offer the other cheek to be slapped, to not only not defend yourself, but to ask for more. The trouble with this is that context is important. I have done a fair bit of research and I have found four theories that take the verse in context of the Jewish people at the time of Christ.
The following are some things to keep in mind.
Many cultures have used the left hand for "unclean" tasks and I believe some still do. I remember my father, who is left handed, telling me that when he was a child his parents tried to force him to use his right hand for writing and other tasks. I mention this only to give some example of how widespread this practice was. Because the left hand was used for unclean tasks you would not use it, not even to strike someone you deemed less honorable than yourself.
Honor is something else that is lost on western culture. In many cultures, even today, honor is valued higher than life. This is why there are honor killings in some religions and cultures. Honor was also very important in the days when Jesus walked the earth. He condemned the Pharisees for always wanting to sit in the place of honor. He also rebuked the disciples, telling them in Mark 9:35 "Anyone who wants to be the first must take last place and be the servant of everyone else." One would only slap someone they considered less honorable than themselves and Jesus states, "If your right cheek is slapped." Since the left hand would not be used, one would have to use their right hand for a backhand slap. A backhanded slap carries more dishonor than a palm.
To see the full list of theories please see Should Christians Practice Self-Defense
After my research, I believe that what was meant was to not react to insults, not that we should offer the other check to be slapped.


Sheep, Wolves and Sheep Dogs
Here is an excellent excerpt from the book, On Combat, by Lt. Col. Dave Grossman. More can be read from this excerpt on his website Killology Research Group.
One Vietnam veteran, an old retired colonel, once said this to me: "Most of the people in our society are sheep. They are kind, gentle, productive creatures who can only hurt one another by accident." This is true. Remember, the murder rate is six per 100,000 per year, and the aggravated assault rate is four per 1,000 per year. What this means is that the vast majority of Americans are not inclined to hurt one another….

I mean nothing negative by calling them sheep. To me it is like the pretty, blue robin's egg. Inside it is soft and gooey but someday it will grow into something wonderful. However, the egg cannot survive without its hard blue shell. Police officers, soldiers and other warriors are like that shell, and someday the civilization they protect will grow into something wonderful. For now, though, they need warriors to protect them from the predators.

"Then there are the wolves," the old war veteran said, "and the wolves feed on the sheep without mercy." Do you believe there are wolves out there who will feed on the flock without mercy? You better believe it! There are evil men in this world and they are capable of evil deeds. The moment you forget that or pretend it is not so, you become a sheep. There is no safety in denial!

"Then there are sheepdogs," he went on, "and I'm a sheepdog. I live to protect the flock and confront the wolf." Or, as a sign in one California law enforcement agency put it, "We intimidate those who intimidate others."
I only have a few things to add to this. The Sheep Dog Mottos is "Only a predator can stop a predator." This is absolute fact. Watch any place with a bully in action. People may tell the bully to stop picking on the lamb, but the young wolf ignores them. That is until a sheepdog steps in front of the sheep to confront the wolf.
I was a sheep during my childhood. Back then Autism and Asperger's wasn't well known, so I was looked at as being quiet and, well, a little odd. Because of this, I was picked on horrifically from 1st grade until 10th grade. The summer after 9th grade, I made a decision not to be bullied any more and hit the weights. God blessed me with a growth spurt as well. Oh there were still insults, but the violence had stopped, and I was now mostly ignored, which was fine with me.
Civilization continues on because of sheep dogs; in uniform, wearing a badge or civilian. The choice must be made to stop being a sheep, and anyone can make that choice. A 4', 90lb woman with the mindset and will to use a firearm is just as capable as a 6', 200lb man is of stopping a wolf!
I'm sure many of you will agree with this; I don't ever want to use violence. I will try to deescalate, and avoid violence if possible, only using it as a last resort. However, if the wolf comes and tries to hurt my family or myself, I don't care if it's bigger, stronger or if there are more of them; I will be a danger to my enemy. Trust me, the cost they will pay in pain and blood is not worth whatever benefit they were after. I may not go unscathed, but "baa" is not in my vocabulary, and it is not in my nature to allow my loved ones or myself to be victimized.


Violence at Church
"Be on your guard; you will be handed over to the local councils and be flogged in the synagogues."
~Mathew 10:17
This is a subject I have covered before in Rising Church Crime and Security back in 2011. Things have only gotten worse. I recently attended the Sheep Dog for Churches Seminar with Lt. Col. Dave Grossman, Carl Chin and Jimmy Meeks.
While I knew some of what was covered from my past research, I learned a lot and was blessed by listening to these men of God and sheepdog trainers. I will cover the seminar in more detail in a future post, but will just cover some high points now.
Since 2006 the rate of deaths at churches or at church functions or buildings has skyrocketed over 1000%! That is NOT a typo! There have been over 549 violent deaths at churches since 1999!
In the 36 months of 2012 (75), 2013 (45), 2014 (74), there were more deaths at churches than at schools! Remember that this was the time period for one of the bloodiest, most horrific school massacre at Sandy Hook Elementary.
I'm not trying to diminish the problem of school violence, I'm simply trying to make you more aware of the problem of violence at faith-based centers.


Should a Christian Carry a Firearm?
If you have read everything thus far, you would think my answer is "yes". However, my answer is, "actually, it depends". If you cannot get your mind ready to take the life of another, do not carry, as you would be a liability.
If you have a prepared mind, then yes, I do believe, if you are legally able, you should carry. I support law enforcement but it is not possible for an officer to be everywhere at all times. If they are there, they will try to protect and serve. If they are not, they will document the crime scene.
God has called us each to serve Him in some manner that no one else could do like we do. Not to toot my own horn, but when I started this site, there were two other sites that looked at some of the same issues but they were posted to and updated infrequently. I have heard from scores of people who thank me for putting a Christian perspective on preparedness topics. If I had decided I wasn't up to the task, would there be a Christian voice on these topics? It's possible, but they wouldn't have covered them the way I have.
Now, we all have a calling. However, because He gave us free will, it is possible that Joe Dirtbag may come along and interrupt God's plan. Is it not our duty to defend ourselves and protect God's plan so we can further work for His glory?
I believe that if we see a wrong being done to another person and choose to do nothing we then bare some guilt for that wrong. Not only that, but for future wrongs the evildoer will accomplish as a result of not being stopped. Because Joe Dirtbag doesn't like being stopped and doesn't want to possibly go to jail, he sometimes uses force to stop the Sheepdog. "A predator is the only thing that can stop a predator" and a gun is what gives that predator, the sheepdog, teeth.


Should We Carry at Church?
In some states, carrying a gun in places of worship is illegal. In states where it is not, whether or not to carry is a debated issue. With everything I have listed here and what I will cover soon in my review of the Sheep Dog for Church Seminar, I absolutely will carry in every church I attend.
I believe it was LT. Col. Grossman who said that "if we love the people we worship with, we should carry the tools to protect them."
Again, Jesus Himself said violence would be done to believers in our places of worship. History, over the last 2,000 years, has shown Him to be correct. I believe the future will continue to prove so as well.

Please click here to vote for Prepared Christian as a top Prepper site!
If you liked this article please think about sharing it on the social media listed below, thanks!