We're nearing Christmas, so I thought I would take this opportunity to give you some gift ideas for the Prepper on your list! I own all but one of these items. I stand behind every one I will post. Some of the links posted are affiliate links, meaning if you decide to purchase, I will get a very small commission; thank you if you do buy something!
I am also going to mention the Preparedness Club. If you're looking for gift ideas besides what is on this list or even if you're looking for something specific, check the Preparedness Club out. Think of us as the sales section of the newspaper. You come to one site to see sales instead of visiting several, and we post only the best sales daily. If you sign up for updates, you will receive one email per day at 6pm EST that lists the sales found for that day.




Prepper Pete Prepares: An Introduction to Prepping for Kids; $3.99 for Kindle Edition
If you have a child and are looking for ways to teach them about preparedness, then the Prepper Pete Prepares: An Introduction to Prepping for Kids
book would make a great gift. The same can be said for Prepper Pete's Gun of a Son: A Gun Safety Book for Kids
, if you have a child you would like to teach gun safety concepts. I have read and reviewed both Prepper Pete Prepares and Prepper Pete's Gun of a Son, in case you would like to get my full opinion.




Resqme Keychain Car Escape Tool; $9.95
I used to have a tool that would cut a seatbelt and break a car window. I kept it in the door pocket, thinking if I wrecked it would be within reach. Then my son wrecked the car, nearly rolling it. I found my tool the next day in the back seat, out of reach.
We now have these on our key chains. To break a window, simply push it against the window and a pin snaps forward shattering the glass. It will also cut a seatbelt. Best of all, it will always be in reach when the key is in the ignition.




Allen Company Adult Blade 4 Lens Style Combo Case (Clear, Red, Yellow, Smoke); $11.00-$15.00
You can read my review of these glasses here.. I used to just buy the safety glasses that cost less than $5 from Menards. Then someone let me try their set of these in yellow. I was amazed at how everything popped out. To me, the yellow alone is worth $11, but add the other colors and this is a great deal!




Luci Solar Lantern; $14.00

I recently reviewed LUCI. You can read the full review Here. LUCI is a solar powered light, powerful enough to provide up to an 8'x10' room with enough light to read by. It takes 8 hours to get a full charge. Once charged, it will keep a full charge for 3 months! After that, it will hold a half charge for two years! If you use it for 12 hours a day, she will last around 2 years! If you use her occasionally you can expect many years of use!




Maxpedition Micro Pocket Organizer; $16.33

Anyone who carries more than a couple pieces of EDC gear has probably gotten tired of fumbling through their pockets for that one needed item. That is what led to me buying this bag, and it was a great idea! It holds most of my EDC gear and fits in the pocket of my cargo pants with room to spare.




Ps Quick Draw Gun Magnet; $17.69

This might not be the typical gift idea, but if you have someone trying to conceal a handgun at home, it is the perfect gift. This is a great way to have your handgun out with you while watching TV or at the desk, yet have it concealed. The magnet strength is enough to hold up to 10lbs.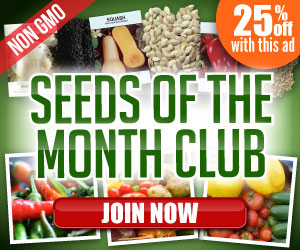 Seed of the Month Club; Six months $19.74 or 1 year $35.52
This is the one item I do not own/participate in. After several years of failed attempts at gardening I realized we just don't get enough sun to garden in any part of the yard. Should we move, I will join the Seed of the Month Club.
Give a new variety of heirloom, non GMO seeds every month! Click here to save 25%, and Preparedness Club members receive a 30% discount.




Space All Weather Blanket; $19.99
If you have the typical foil type space blanket in your BOB, this is a great upgrade. I still have them in mine, but this one is far warmer and more durable. Warmer than wool, it will retain 80% of body heat. It also has grommets in each corner and is tear and puncture resistant.




Guyot Designs Backpacker Stainless Steel Bottle, 32-Ounce; $21.99

I don't own this version. I own its big, discontinued, brother and you can read my review of it here. As I say in the review, the Backpacker has a narrower base and is less expensive than the one I have. That aside, this is a fantastic water bottle! It keeps things cooler longer and the wide mouth makes filling it easier. Just make sure it comes with a splash guard (I believe they do. Well, mine did anyway.) This is the last water bottle I will ever own.

Making the Best of Basics; $39.99
This is the first informational prepper-type book I purchased after seeing several raving reviews on various forums. They were not wrong! This book is very packed with information on subjects including how to stock your pantry, how to store those items and how to cook with them. There is a sprouting guide, a guide on wheat and dehydrating fruits and vegetables. There are instructions on how to make yogurt and cheese. There is even information on essential oils!
I have said it before, this is one book that should be in everyone's preparedness library! You can read my full review of it here. There are now digital and DVD versions. I prefer the hard copy, but the digital and DVD version come with a lot of extras not included in the hard copy.





Howard Leight Impact Sport Electronic Earmuff; $48.94

If you go shooting with other people, this is a must have item. If you take any level of training, this is a must have item. I used them during training and could hear the instructor who was speaking normally, and was on the other side of the outdoor range. I would not have heard him that well without the electronic earmuffs! They really amplify voice well, and block the sounds of gunfire to the level any other earmuffs would. You can read my full 5 star review here.



Cold Steel Spartan; $59.59

This is my EDC knife for last ditch self-defense. I'll be honest, I liked the look of it and it was getting good reviews, so I asked for it as a birthday gift. It is a far better knife than my previous EDC knife. The handle design means your grip is strong and your fingers are not sliding off. This might be adjustable, but mine doesn't open easily, which is fine by me. My last knife slid open when it wasn't supposed to and I ended up with stitches. Be forewarned, this knife is a mammoth, with a total length of 10.5" and is also quite wide. It still fits fine in a pants pocket, but is the biggest folder I have owned.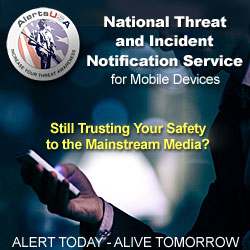 AlertsUSA; $99.00 per year
Do you have a news junky in your life? Someone who needs to stay on top of current events? Maybe they check their favorite online sources multiple times a day? AlertsUSA
is the perfect gift for them! AlertsUSA's goal is to increase the user's level of situational and threat awareness. They will send a text message to your mobile device and an email with every alert.
I have used the service for two years and they frequently give an alert before the MSM picks up on the topic. Since they are not the MSM and their only agenda is to give you the information they deem as important, they often report information received from an insider that never appears on MSM.
The service is $99.00 a year. However, Preparedness Club members receive it for $75.00! For just this weekend you can get a one year membership to of AlertsUSA for $69.00!





Crossbreed holster; Price varies
I was introduced to CrossBreed holsters by a reader, and I am glad I was! I owned 4-5 holsters before my CrossBreed. They either never fit right, didn't offer enough concealment or were uncomfortable.
I purchased the Snapside and a gun belt to go with it. The combination of the two is BY FAR the most comfortable way I have ever carried. If you CCW on a regular basis, I cannot recommend them enough, especially with a gun belt. The level of comfort, support and conceal-ability is well worth the price!
They also have belly band holsters, ankle holsters and a modular design called a purse defender that essentially turns any purse into a CCW purse. They also have bedside backup and a RAM ball mount that allows you to securely mount your handgun just about anywhere and make it easily accessible.
It might actually be too late to get some of the items before Christmas, but if you have a shooter on your list, consider Crossbreed! They'll love it.

Excalibur 9-Tray Dehydrator; $179.00

I did a lot of research and looking before deciding to purchase the Excalibur dehydrator. There are many that are less expensive, but I either didn't like the design or didn't like some other feature. The Excalibur is the champion when it comes to the amount of food that you can dehydrate at one time.




SIRT R/R Training Pistol. Dry Fire Handgun by Next Level Training; $195.00

The SIRT training pistol is a diagnostic tool and training aid. It allows you to train and form good habits, and actually see deficiencies like breaking down and left when you squeeze the trigger. With the use of the laser it lets you see if and when you are breaking off target.
The cost might seem a little high, but if you consider the cost of ammo and how much ammo it could take to break you out of bad habits, it could actually save you money!
The deal linked here is actually better than what I got. It includes:
•SIRT 110 Training Pistol Red/Red Lasers
•FREE 90min Training DVD and FREE SIRT Safety Glasses.
Also includes a weighted magazine, a carrying case, adjustment tools and manuals.
•Includes $250.00 Front Sight Certificate as well as Coupons and Other Discounts for Accessories and Additional Training Aids
•One Year Manufacturer Warranty. Made in the USA.
Final Thoughts
Hopefully I have been able to give you some gift ideas for the Prepper on your list. I'm sure they'll be happy with anything I have listed. If you are looking for a gift that is more light hearted or a gag gift, check out this list from The Daily Prep.